OK, I've developed engaging eLearning content to support my organization's compliance efforts, now what? Of course, this hypothetical question would never be asked post-development of your eLearning courses. The point is, there are several ways to deploy your eLearning courses and track the progress of your learners. Let's take a look at how a simplified LMS can help a small to medium-sized business.
Larger organizations have an enterprise Learning Management System (LMS) to accomplish this task with the help of LMS administrators and engineers.
What about the small and medium-sized businesses (SMB) who need to train their employees, but do not have the staff or funds for an enterprise LMS? Or, when an organizational business unit needs to provide training to learners outside of the corporate firewall. Brookwood has simplified this answer by developing the Brookwood Learning Hub, the perfect solution for SMB training, certification and tracking.
Brookwood's Learning Hub consists of these key components: Documents, Training Modules, Assessment, Certification, Reports.
Documents
Documents allow you to provide any document that is required for the learner to read. This could include prerequisite reading, instructions, or any other information. The Hub will track and report each document that was downloaded.
Training Modules
Here, learners access on-demand interactive eLearning, with knowledge checks. Since learners have roles, each learner is presented only with those modules they are required to complete. Smart bookmarking is enabled to allow learners to stop/pause and resume the module at another time. For convenience, the learner can stop/pause while on their PC in the office and resume on their iPad while on the train or plane. Completion status is clearly marked as 'Not yet started', 'In-progress' or 'Complete' so the learner sees their curriculum progress at all times.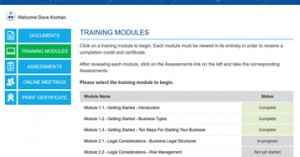 Assessment
Once an eLearning module or set of modules are complete, the learner will have access to take an Assessment to prove their comprehension of the learning content. Our robust assessment engine allows you to easily create a set of multiple choice, multiple answer or true/false questions to test the learner. To minimize any sharing of the assessment questions, you can create a bank of say 50 questions and have the system select 10 random questions from the bank. While passing scores are defined by the administrator, we suggest a passing score of 80% or greater. All assessment results are tracked and reported to ensure compliance.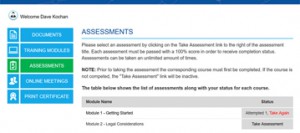 Certificate
Upon completion of all assigned training modules and when all assessments are passed, the learner is provided with a Certificate that can be printed and displayed, showing off their accomplishment. Of course, all managers will have access to reports showing who has successfully attained certification and those who have not.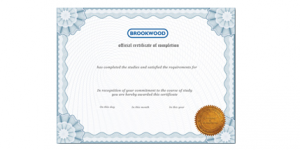 Reports
The Learning Hub Reports engine allows managers to see at a glance how many people have downloaded the documents, completed their training modules and passed the assessment, and those who have not done so. Managers can drill down to see the details for each learner providing valuable information and a path for remediation. A complete data dump is available showing all data for all learners in a single spreadsheet that can be filtered and sorted accordingly.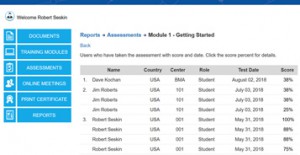 Other features include integrating your Online Meetings application to list virtual meetings scheduled for the learners; complete mobile-ready interface enabling users to access the Learning Hub on any device; and the ability for Brookwood to create any custom feature you require and brand the Learning Hub to your style guide.
OK, now we know a great solution for the small and medium-sized business and larger organizational business units to train, assess, certify and track learner progress. Click the button below to request more information or to request a free demo to see why the Brookwood Learning Hub is right for your organization.