Become the ultimate designer in developing eLearning modules. Elearning does not have to be boring.
Fresh elearning designs will keep your modules looking updated and attractive and draw the learner's attention. We all talk about adding interactions, scenarios, gaming, and knowledge checks, but a graphically sound module is just as important. The first look is going to pull your learner in and get them interested in taking and completing the course. If the first screen grabs their curiosity, they will want to see what's coming next! Animations, custom graphics, colors, and icons, together create a visually appealing module.
Photoshop is one of the most used tools for design in many aspects of development and you can use it to enhance your training modules. The ease of simple image editing and filters can bring a great new look to your overall design. Have you ever wanted to add a little space to a headshot or extend the background of an image? Photoshop can do that all for you.
Photoshop will help you understand what makes one image more appealingly better than another. When we (Brookwood's Design team) are developing elearning modules for our clients, we constantly jump to Photoshop to think out of the box, lay out our slide designs, tweak images, play with colors, change colors, and create icons. Photoshop is a tool that will inspire you and help your creativity flow. Don't limit yourself to the to the design tools within your elearning program.
While developing elearning, use Photoshop for:
Retouching images
Editing screenshots
Removing backgrounds behind images
Extending image backgrounds
Changing colors of images or icons
Resizing and cropping images
Creating custom graphics and shapes
Creating custom drop shadows or other effects
Smoothing out pixelated edges for crisp lines
Possibilities are endless!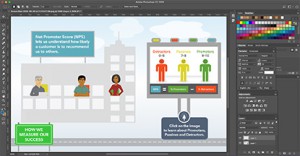 Don't be afraid to try out Photoshop! With the right training and practice, you will be able to add oomph to your existing or new training courses! Brookwood now offers a one day Photoshop for eLearning class that you can register for as an add-on to one of our elearning classes.